An Enriching 5th Annual Convention For the Math Circle of the Philippines
Last November 17-18, 2011 marked the 5th Annual Convention of the Math Circle of the Philippines held at the CSB Hotel International Conference Center in Malate, Manila.
The convention offered a variety of knowledge and learning experience in line with Math education, with an excellent speakers' list.
Updates on the "K+12" Program and its implications to Math education was discussed by Ms. Elizabeth Catao, Senior Education Program Specialist of the DepEd. Math Circle Chairperson Mr. Rolly Remitar and Mr. Melchor Española shared their experiences in implementing Singapore Math Curriculum and Instruction.
The session was followed by Dr. Carlo Magno's talk on Cognitive Basis of Teaching and Learning Math specifically on problem-solving. Dr. Magno explained the importance of implementing self- regulation strategies in the classroom. He discussed how the teachers can help students become self-regulated learners. Mr. Fortunato Tacuboy III of Philippine Science High School also shared their practices and programs in Math.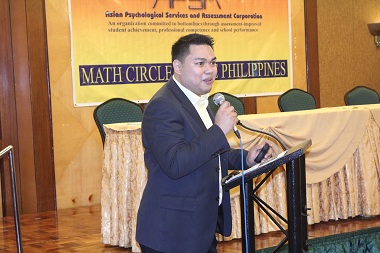 During the second day, Mr. Rolly Remitar conducted a lecture- workshop on identifying and managing students who are at risk. This was followed by Dr. Soccoro Nuyda's lecture-workshop on strategies for teaching Math effectively. The last part was an overview of the Global Mathematics Certification which was discussed by Mr. Tetsu Yamaguchi of Japan.
It was also during this conference that 45 students were recognized for obtaining perfect scores in the Standards-Based Assessment (SBA) for Math for SY 10-11.