Dr. Carol Dahir Stresses "Putting Standards into Practice"
Truly, it has been a long way since its inception. The School Counselors' Circle of the Philippines (formerly the Guidance Counselors' Circle) held its 11th Annual Convention last December 8 to 10, 2011 at the Traders Hotel, Roxas Blvd., Pasay City.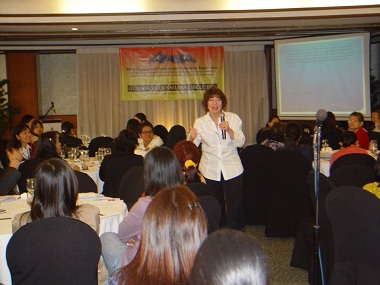 Dr. Carol Dahir, Professor and Chair of School Counseling Department of the New York Institute of Technology, proved to have given the participants a very inspiring keynote speech.
Dr. Dahir emphasized that the school counseling community in the Philippines can position itself at the forefront of educational change and school improvement. A good start would be to know how to use the proposed Philippine National Standards. She stressed the importance of having the National Standards to guide and direct practitioners in program design, implementation and evaluation. The National Standards can provide a unified direction and purpose; offer direction-setting in counselor preparation. Such can guarantee equity in services in public and private schools. These Standards can also define counselor competencies necessary to run the programs plus recognize the counselors' relevance in the educational system.
Dr. Dahir further encouraged everyone that with planning, development and assessment, the desired goals for the students will be attained through collaboration and accountability.
During the three-day convention, Dr. Dahir also held three workshops, namely: (1) Developing the Transformed Skills: Leadership, Advocacy, Teaming; (2) Program Mapping: Aligning your activities with the National Standards and (3) Accountability: Connecting Work to School Goals.
GCC President Dr. Rose Marie Salazar- Clemeña, RGC also conducted a lecture-workshop on Developing a National Framework for the Philippines and Proposed Framework Components for a Philippine Model.
During the first day, current issues on the guidance and counseling profession were tackled. Updates on the Guidance and Counseling Act 2004 were discussed by Dr. Carmelita Pabiton. Dr. Barbie-Wong Fernandez, on the other hand, presented the proposed revisions in the Counselor Education Curriculum.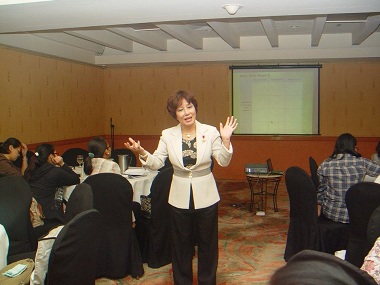 On the second day, research papers on counseling programs and evaluation of counseling programs were presented. Paper presentors were: Dr. Susan Estanislao, RGC for Assessing School Counseling Programs and Practices; Dr. Alexa Abrenica, RGC for SPACES: A Proposed Counseling Approach; Fr. Melchor Bernal, SVD for Integral Approach to Counseling and Healing; Ms. Belen Mandin, RGC for Student Mentoring: A Collaborative Approach in Handling Student Concerns; Ms. Juliet Pia-Catungal RGC for Guidance Counselors' Performance Assessment Tool and Dr. Lucille Lucille D. Evangelista for Preschoolers' Cognitive Ability and Moral Development: A Correlation Study.
On the third day concurrent workshops were scheduled. Workshop on Establishing Anti-Cyberbullying Programs in School was handled by PGCA President Imelda Villar, PhD; Cognitive Behavior Therapy by APECA President Ching Mey See, PhD; Data Utilization in Raising Student Achievement by APSA Chairman and CEO Leticia M. Asuzano, PhD and Mr. Rolly Remitar and Rehabilitation Counseling for Persons with Disabilities: Meeting the Challenge by Irma C. Coronel, PhD, RGC, President, Philippine Council of Cheshire Homes for the Disabled.
It was also during this occasion that the Board of the Guidance Counselors Circle decided on an agreeable change of name: from Guidance Counselors Circle to School Counselors Circle of the Philippines.