School Counselors as Leaders: The 15th Annual School Counselors' Circle Convention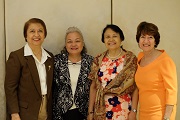 The 15th Annual School Counselors' Circle Convention was successfully held last December 1-2, 2015 at the Hotel Jen in Pasay City. With the theme, "Making a Difference in Schools: Impact of Effective School Counselor Leadership", the convention aimed to help school counselors become more efficient leaders in the academe. Dr. Carol Dahir, EdD, Professor and Chair of the School Counseling Department at the New York Institute of Technology (NYIT), as keynote speaker, shared the latest developments and brought fresh challenges to the participants on the topic.
It was a period of productivity as participants were enlightened with the various lectures presented by recognized resource speakers in the Philippines, included APSA's President Dr. Rose Marie Salazar-Clemeña, RGC, RP, who discussed about Counselor Competencies and National Standards for School Counseling. Mr. Earnest Tan, RGC focused on how school counselors can enhance students' capacity to become resilient in various life challenges. Dr. Imelda Villar, RGC, RP conducted a seminar-workshop on Finding the Right Path: Career Programs for Senior High School Students. At the end of the 2-day convention, the attendees took home a lot of important lessons they could apply in serving their respective schools as practitioners of school counseling.