Principals' Institute Underway
Twelve principals from a spectrum of schools in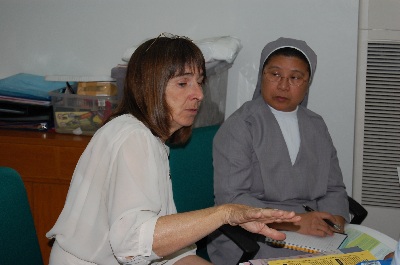 the country convened last May 4-17, 2009 at the St. Paul Center for Renewal in Alfonso, Cavite. The first of the three two- week training program was designed to enhance skills as an effective principal. The two weeks were devoted to developing a better understanding of making standards work for a higher level of student achievement and exercising strong leadership that brings about cohesion, effective planning and supervision strategies. The output of this first two week training is for principals to develop a plan for their respective schools for the school year that will bring about changes that can be demonstrated and measured by the end of the school year. The last stage of this three-phase program will be a training for leadership skills at the California State University which will give the principals opportunities to observe how schools in different countries manage making standards work and exchange ideas on practices that can help achieve the goals more effectively.
Dr. Michelle Collay, from California State University and Ms. Willie Santamaria were among the experts who trained the participants on Leadership, Supervision and Staff Development.
Among the schools that participated in the program are St. Paul Pasig, St. Paul Tuguegarao, Central Philippine University, Divine Word Academy of Dagupan, Good Shepherd Cathedral School, Holy Name University, St. Andrew's School, and University of Regina Carmeli.