2nd Phase of the Principals' Institute: A Success
A program designed to update principals with the latest trends in curriculum design, classroom management and supervision, the 2nd phase of the Principals' Institute commenced last May 3, 2010. In partnership with the De La Salle University College of Education, participants attended a one week program in Educational Leadership and Management in Educational Institutions under Dr. Jocelyn Cruz. The program aimed to provide educational leaders with a strong foundation consisting of research, theory-oriented, and inter-disciplinary approaches such that school leaders may develop their own principles and theories for their management actions. Among the participants who joined the program were Mr. Ronald Santos, Ms. Mary Genevieve Mirafuente of St. Paul College- Pasig, Ms. Gladys Floreta of Holy Name University, Ms. Alicia Ferrer of Divine Word Academy of Dagupan, Ms. Marilyn del Rosario of St. Andrew's School, Mr. Mark Rey Santos of University of Regina Carmeli.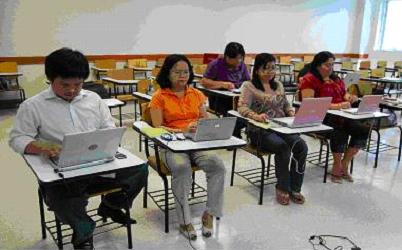 The Principals' Institute is a 2-year program consisting of 3 phases dedicated to learning updated technology in Curriculum Design and Instruction, Standards-Based Assessment, Classroom Management, Educational Leadership and Management. The first phase of the Principals' Institute was held last May 4-17, 2009 at the St. Paul Renewal Center, Alfonso Cavite. The 3rd phase will kick off next summer at the California State University, which will include training and observation trips in schools in US.
For the second batch of the Principals' Institute, APSA is inviting principals or faculty members who exhibit a potential for leadership and responsibility to join the Institute to be held on May 2011. For details, please call Nette, Teng, Rolly at 5271901, 85257277 or email to apsa1281@yahoo.com