Five Leaders, One Vision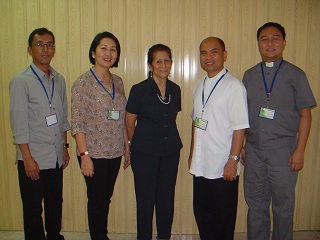 Five leaders share one vision- "to enable their schools to reach the apex of excellence through effective leadership and supervision".
Fr. Emmanuel Regalado , LRMS, Director of Kong Hua School in Cagayan de Oro, Fr. Emilio Ascaño, LRMS, Rector- Principal of St. John's Institute in Bacolod, Ms. Rosario Argana, Directress of Southernside Montessori School in Muntinlupa, Ms. Nanette Nicerio, Activity Coordinator of Elizabeth Seton School in Las Pinas City and Mr. Alexis Macapanpan ,Social Studies Subject Team Leader of St. Paul Pasig took the challenge as they joined this year's Principals' Institute.
The Principals' Institute is a 2- year program consisting of 3 phases designed to help principals or would be- principals enrich their leadership and management skills, improve instruction through effective supervision, foster curriculum collaboration among faculty, and utilize time and resources effectively to maximize student achievement.
After the successful completion of the last phase of the 1st batch last April 13-26, 2011 held at the California State University, the first phase of the Principals' Institute was held last May 13-25, 2012 at the St. Paul College, Pasig.
APSA Chairman and CEO Dr. Leticia Asuzano introduced the participants to the program and explained how principals can make a difference in their schools by making standards work.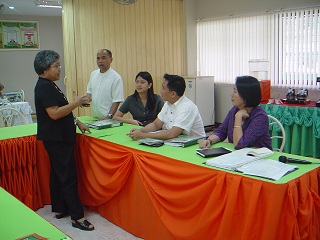 Ms. Teresa Canton, Principal of Talisay Malayan Academy, and who was trained on Making Standards Work by Dr. Douglas Reeves conducted the lecture- workshop on Creating Power Standards. Why standards are needed, where a school should start if it intends to use the standards approach, how to make power standards, how to translate standards into activities and how to prepare scoring guides were among the key topics of her lecture.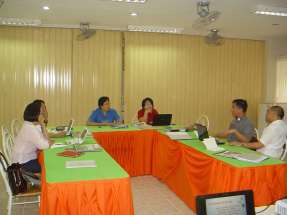 Sr. Teresa Yasa, professor at the DLSU College of Educational Leadership and Management also conducted theory-based lecture- workshop on Curriculum Planning and Design. During the week, participants had the opportunity to tour around St. Paul Pasig and visit the school's classrooms, laboratories, and other facilities.
Participants also had the chance to visit Bro. Andrew Hall of DLSU. Dr. Voltaire Mistades, Dean of the College of Educational Leadership and Management introduced the participants to the Educational Leadership and Management Program (Executive Program).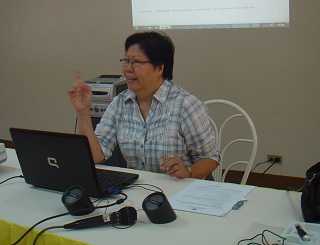 The Executive Program in Educational Leadership and Management is designed for experienced educational leaders and managers, enabling the participants to complement their extant knowledge, competencies and skills with up-to-date theories, concepts and skills in the various areas of educational leadership and management through the adoption of an innovative teaching-learning system that combines traditional classroom work with technology-enabled learning strategies, independent study and one-on-one faculty student consultation.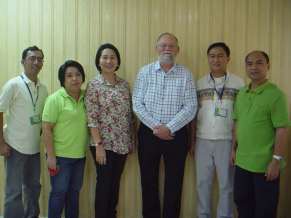 During the 2nd week of the seminar, Dr. George Gagnon, professor at the University of California Berkeley conducted a 5 –day lecture- workshop on Leadership and Supervision and Staff Development. Dr. Gagnon discussed how participants can apply the Association of California School Administrators (ACSA) Professional Standards for Educational Leaders in their own practice; use the standards to structure individual action plans; collect and organize relevant leadership materials for self and teachers (portfolio); and practice management and supervision skills.
The Principals' Institute is also an opportunity for participants to exchange ideas and develop personal and professional relationships.